Are you in the market for an excavator? To get the job done faster and focus on larger projects, explore Komatsu mining excavators. With their powerful technology, heavy-lifting capabilities, and unmatched reliability, these reliable machines can make a significant difference in your productivity. From construction sites to forestry operations, these hefty beasts of burden are versatile enough to handle any tough task you have in mind. In this blog post, we'll walk through everything you should know about Komatsu mining excavators – from technical specifications to operator safety features and cost-saving technologies that set them apart from other excavation equipment. Read on to learn more!
Overview of Komatsu Mining Excavators
Komatsu mining excavators offer a wide range of options for various applications. Firstly, their models include both hydraulic and electric-powered variants. Additionally, they feature advanced technology for improved efficiency and productivity. Komatsu's lineup ranges from the PC2000-8, suitable for smaller operations, to the massive PC8000-6, designed for large-scale mining projects. Furthermore, these machines prioritize operator comfort and safety. Komatsu is known for its reliable global support network, ensuring timely assistance. In summary, Komatsu mining excavators provide powerful solutions for diverse mining needs.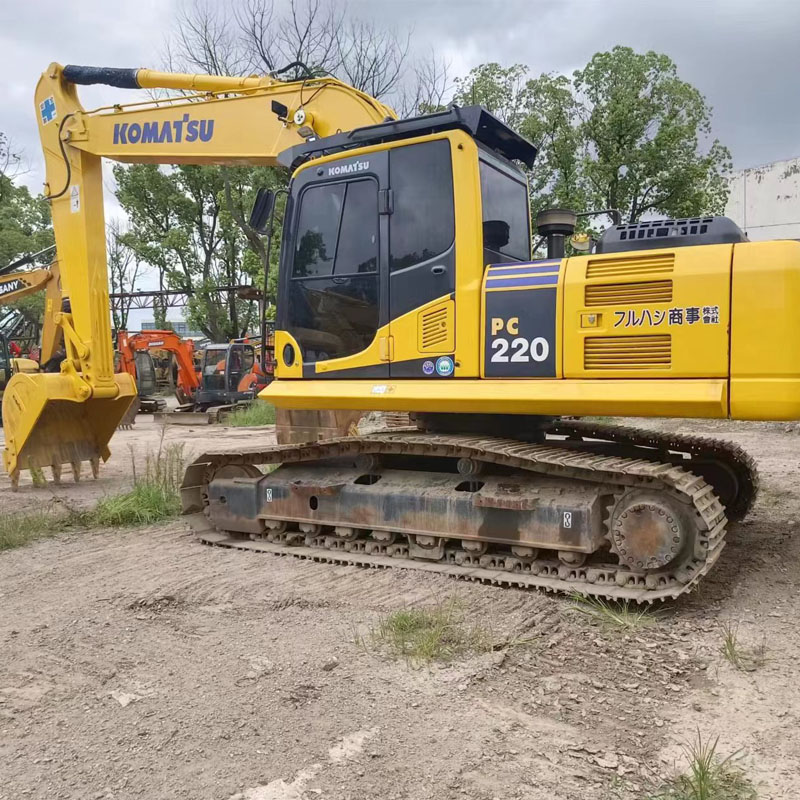 The Benefits of a Komatsu Mining Excavator
Komatsu mining excavators offer several benefits for your project or business. Firstly, they boast exceptional power and productivity. Additionally, their advanced technology enhances efficiency, reducing fuel consumption and operating costs. Furthermore, Komatsu excavators prioritize operator comfort, ensuring a safe and pleasant work environment. These machines are also designed for easy maintenance, minimizing downtime. Lastly, Komatsu's global support network ensures prompt assistance whenever required. In conclusion, investing in a Komatsu mining excavator will significantly contribute to the success and profitability of your mining operations.
Tips for Maintaining Your Excavator
Follow these recommendations to maintain your Komatsu mining excavator successfully. Start by following the manufacturer's suggested maintenance routine. In addition, check for wear and replace hoses and filters. Check the levels of all fluids, including hydraulic, coolant, and engine oil. Ensure you routinely clean your machine, removing dirt and debris from key locations. To reduce wear and tear, don't forget to oil moving parts. Last but not least, plan regular expert checks to guarantee peak functioning. You may extend the life and productivity of your excavator by adhering to these recommendations.
Considerations for Safety When Working with a Komatsu Mining Excavator
When operating a Komatsu mining excavator, safety is of the utmost importance. To begin, ensure that operators have sufficient training and certification. Establish explicit communication standards between the operator and ground people as well. In addition, do frequent equipment checks to uncover any threats. When operating near slopes or unstable terrain, use extreme care. To prevent mishaps, keep a safe distance from the excavation area. Finally, wear adequate personal protection equipment, such as helmets and safety boots, at all times. By putting safety first, you'll establish a safe working atmosphere for everyone.
How to Buy the Right Excavator for Your Needs
To buy the right Komatsu mining excavator, analyze your project's requirements. Next, consider excavation depth, material density, and loading capacity. Additionally, compare different models regarding performance, fuel efficiency, and maintenance costs. Don't forget to evaluate operator comfort and safety features. Furthermore, consult with experts or dealers to gain insights and recommendations. Lastly, ensure access to Komatsu's global support network for prompt assistance. Following these steps, you'll select the perfect excavator for your project.
Shanghai Yonggong Machinery is the perfect choice for anyone looking for a used Komatsu excavator. We specialize in providing top-quality machines from renowned brands such as Hitachi, Komatsu, Doosan and Caterpillar, Hyundai, Kobelco, Kubota, Sany, and Volvo. That means that you can always find something suitable to meet your needs. Contact us for more information!
Related Used Excavator Videos:
Related Used Excavator Posts:
CAT mining excavators: All Things You Should To Know
Komatsu Excavator Price Komatsu Excavator For Sale
Construction Excavators: 7 Types Of Excavator You Should Know
From Construction to Demolition: The Many Uses of Excavators