Are you in the market for a used excavator? If so, you may be wondering how much you can expect to pay. The price of a used excavator can vary depending on its age, condition, and features.
In this blog post, we'll provide some guidance on determining the value of a used excavator. We'll also give some tips on getting the best deal possible when purchasing a used excavator. So whether you're looking to buy or sell, be sure to check out this blog post!
What factors influence the price of a used excavator
The cost of a used excavator varies greatly, depending on several important factors. Key among these considerations is the age, size, and model of the excavator for sale. Older models tend to cost less than newer ones. The seller's reputation, how well or poorly maintained the excavator is, and where it is being sold are also influential factors in cost.
Location matters because of the availability and cost of parts as well as the cost of labor for repair and replacement Additionally, curb appeal – how attractive buyers find the excavator – can be a major factor in its price. There are so many considerations that can affect cost when buying a used excavator.that exhaustive research is highly recommended before making a purchase.
The different excavator types and sizes and their features
Excavators come in a variety of sizes and weights, making them suitable for many different excavating projects. Mini excavators are often used for tight spaces, weighing between 7,000-8,500 lbs., while the largest excavator can weigh over 90 tons. Mid-sized excavators are most common for construction projects and range from 15-36 tons.
Features such as boom length and arm forces vary depending on the size of the excavator. Smaller models typically have lower arm forces whereas larger excavators are capable of tackling tougher jobs with greater power and force. For more precise movement and operation, excavator models offer a variety of auxiliary functions to optimize job performance. Ultimately, when it comes to excavator types and sizes, it's important to consider the job's requirements before selecting an excavator that is able to handle the task efficiently.
How to choose the right excavator for your needs?
Choosing the right excavator for your needs doesn't have to be a daunting task. Knowing the excavator's operating weight and size is essential in selecting a machine for any project.
The operating weight of excavators refers to the total weight of excavator components such as the engine, chassis, and counterweight, along with the excavator arm, boom, bucket, and cab. This allows users to identify excavator sizes according to their requirements.
It also helps them understand what tasks may be more suitable for either a large or small excavator machine. Following these steps ensures that you make an informed decision when selecting excavators for any job and get the most out of your investment.
On our website, you can filter the used excavators by the machine price range, working hours, and production date.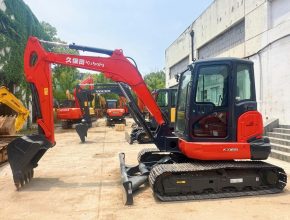 Used Kubota KX165 Excavator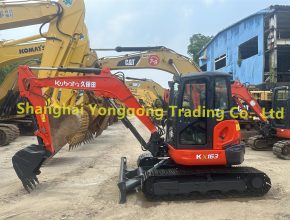 Used Kubota KX163 Excavator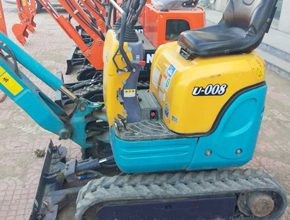 Used Kubota U008 Excavator
Used Kubota KX 155 Excavator
Used Kubota KX55 Excavator
Tips for negotiating a good price on a used excavator
Negotiating a good price on a used excavator can be tricky but there are a few tips you can follow.
Firstly, do some research into excavator sizes and weights so that you know what kind of excavator you are looking for. Knowing the operating weight of the excavator is particularly important as it will tell you how powerful it is and how much area it can cover.
Try to get an idea of the current rates for excavators within your budget—this will give you bargaining power when negotiating the price.
Don't be afraid to haggle and use your skills to talk down the asking price.
With these in mind, you should be able to bargain for a reasonable deal on a used excavator.
Where to find used excavators for sale?
If you are looking for used excavators for sale, then Shanghai Yongong is the right place for you. With 20 years of experience in supplying excavators, they have a wide range of types and sizes to fit all your needs. If you are buying a used excavator, they offer attractive deals that will make buying an excavator much easier.
What's more, our experienced technical staff can provide advice on the best options for keeping your equipment in optimum condition and working order. At Shanghai Yongong, the customer always comes first, so rest assured that you will get quality products and excellent service.
The brands that Yong Gong mainly distribute are as below: