Do you feel prepared to begin digging? It's critical to understand the best excavator brands and which one is best for your project before diving in headfirst. This blog post provides a detailed analysis of the top excavator brands available to help you make the most of your excavator choosing process. Learn more by continuing to read!
How to Choose a Brand of Excavator?
To get a trustworthy and durable machine, picking the correct excavator brand is essential. Therefore, it is crucial to consider variables like the brand's reputation, durability, versatility, accessible technology, and customer support when choosing an excavator manufacturer.
Durability defines how well a machine can withstand wear and tear, while a brand's reputation indicates its capacity to develop high-quality, dependable machines. The machine's versatility allows for various uses, and the technology currently in use can increase the machine's production, efficiency, and safety.
Customer support is also critical, as it can provide maintenance resources, spare parts, and other services necessary to keep the machine operational.
Considering these factors when choosing an excavator brand can help ensure operators get the optimal machine for their specific needs, enhancing their productivity, profitability, and safety.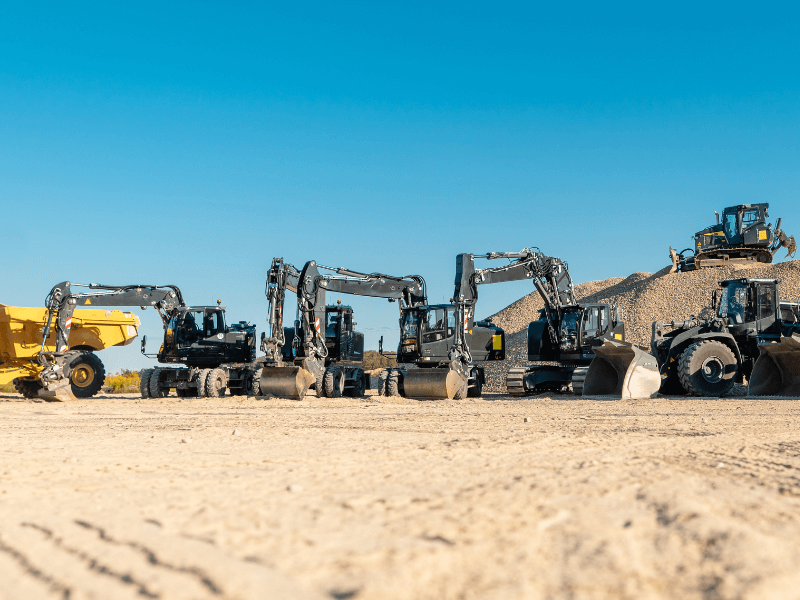 Compare and Contrast the Top Excavator Brands.
The top excavator brands in the market are Caterpillar, Komatsu, Volvo, Hitachi, and John Deere, each offering unique features and functionalities. Caterpillar has a reputation for developing cutting-edge technology that enables online control and management of excavators. Komatsu is well known for its reasonable costs, superior earthmoving abilities, and minimal fuel use. Volvo offers robust machinery that is fuel-efficient, along with top-notch customer assistance. great-quality excavators from Hitachi are quick, effective, and simple to maintain, whereas John Deere is renowned for building long-lasting, dependable equipment with great resale value.
While there may be some similarities between these top excavator brands, each has its own unique advantages and features that set them apart from the competition. Ultimately, the choice comes down to individual needs and preferences, equipment budget, and required attachments for specific applications.
Quality of Construction & Durability.
The quality of an excavator determines its reliability and longevity. To survive heavy-duty duties and hard working conditions, the excavator needs high-quality components, materials, and craftsmanship. Frames, cabs, undercarriages, and booms must be strong enough to support the machine and its load. Durability, on the other hand, determines the machine's efficiency and longevity. Long-lasting excavators save maintenance costs and increase value. When considering a particular excavator brand, evaluating its construction quality and durability can help determine which brand can provide the best value over a long time.
Considerations for Operating Costs & Maintenance Requirements.
Operating costs and maintenance requirements are significant factors that affect the overall value of an excavator brand.
Fuel consumption, engine power, and ease of routine maintenance, among other factors, play a significant role in determining the operating costs associated with owning and operating an excavator. Maintenance requirements, including regular cleaning, lubrication, and inspection of components such as tracks, hoses, and fluids, can affect machine productivity and reduce costly repairs. Considering an excavator brand's operating costs and maintenance requirements helps determine which machine provides the best return on investment.
Shanghai Yonggong Machinery is a professional supplier of used construction machinery and equipment. We offer reliable, high-quality excavators from brands such as Caterpillar, Komatsu, Volvo, and Hitachi. Our experienced team can help you compare and contrast the machines to find the best fit for your needs and budget. Visit our website to learn more about our selection of used excavators today.
Related Used Excavator Video:-
Related Used Excavator Posts:-
Construction Equipment Supplier: The Complete Guide
Excavator Construction Equipment For You To Know
Top 6 Most Reliable Excavator Brands
Top 8 Excavator Brands : How Much Do You Know?